The J2R VETS Cyber Security Team (CST) provides our clients with Cyber Maturity Model Certification (CMMC), security monitoring and alerting, and Federally compliant forensic auditing and tracing services. Our solutions include using the brightest human minds and the most sophisticated equipment available. All services are available worldwide (OCONUS) and are provided remotely or in-person.
The J2R VETS Cyber Security Team manages;
Cyber Maturity Model Certification (CMMC)
The Department of Defense's (DOD) CMMC and related cyber security directives for Government Organizations and Government Contractors


Penetration Testing, Scanning, Monitoring and Alerting
Next-generation remote services for identifying threats and monitoring unexpected network changes before they turn into breaches


Forensic Tracing and Auditing
Fraud investigations; OCONUS on-site rapid response and forensic analysis assists clients with sensitive and complex electronic discovery, information governance, computer forensics, information security, and privacy issues

Differentiators

J2R VETS CST collaborates with customers and partners to provide custom managed security services, suited to meet very different security and compliance requirements.
Operations
24/7 dedicated Security Engineers
Custom cyber protection packages tailored to organizational needs
Identify, authenticate and analyze evidence of wrongdoers
Partnerships with top-tier vendors for reliable tools and research
Senior Project Managers and Engineering team


Use Case
Banking, Corporations, Healthcare and Insurance
Government (all)
Military and Defense

Core Competencies
Asset Tracing Investigations
Bespoke expert witness services
Cloud Acquisitions
CMMC Compliance Scanning
Corporate Cyber Fraud investigation
Computer Forensic and Analysis
eDiscovery Consulting
Ethical Hacking
Expert Testimony and Reporting
FISMA Compliance Scanning
Forensic Accounting
HIPAA Compliance Scanning and Phishing
Incident Response
Internal and Regulatory Investigations
Managed SOC Services
Mobile Forensics
Microsoft Office 365 Investigations
Penetration Testing
PCI Compliance Scanning
Quantum Cyber Security Research and Development
SIEM Monitoring
Vulnerability Scanning
Certifications
A+ Certified (DOD 8570)
Certified Ethical Hacker (CEH) (DOD 8570, 8140)
Certified Fraud Examiners (CFE)
Certified Information Systems Security Professional (CISSP), ISC2
Certified Information Security Manager (CISM), ISACA
Certified in the Governance of Enterprise Information Technology (CGEIT)
Encase Certified Examiner (EnCE)
Computer Hacking Forensic Investigator (DOD 8570)
International Fraternity of Cybersecurity Investigators (IFCI-CCI)
Information Systems Auditor (CISA), ISACA
International Society of Forensic Computer Examiners (CCE)
Information Technology Infrastructure Library (ITIL) v3 Foundation
ISACA Certified
Network+ (DOD 8570)
Security+ (DOD 8570)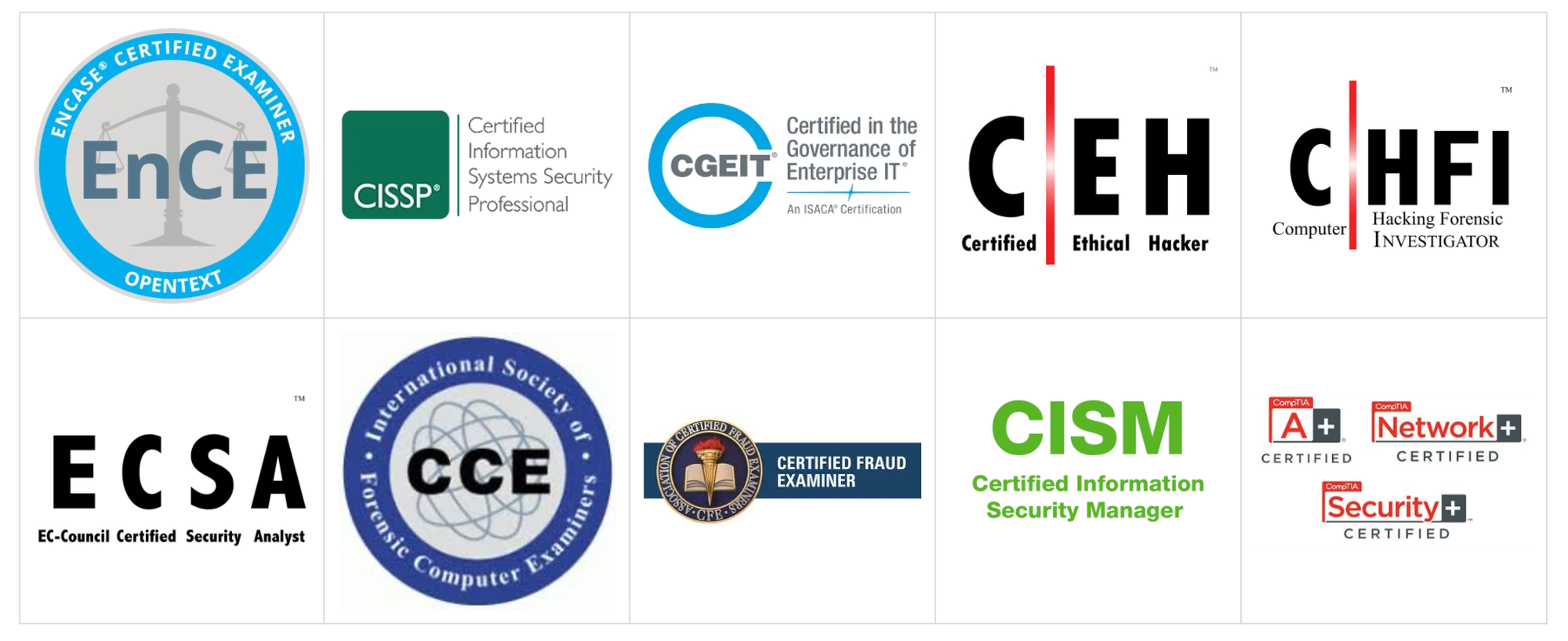 Contact Information
email: info@j2rvets.com
tel: 202-792-8757